Sponsorship Opportunites
ICASHRM is a professional organization dedicated to help meet needs of the Human Resource Professionals in Indiana County. Comprised of over 30 members, we are an affiliated chapter of the Society for Human Resource Management, the world's largest association devoted to human resource management. Build connections with local Human Resource Professionals while growing your business. Through conference sponsorship, monthly chapter meetings, ongoing chapter communications, and promotions, you will be connected with an invaluable network of contacts that you and your company can utilize....and this year is our Biennial Conference Year. You don't want to miss out on this networking opportunity!
Support your local SHRM Chapter. Become an ICASHRM Sponsor Today!
Diamond Conference Sponsor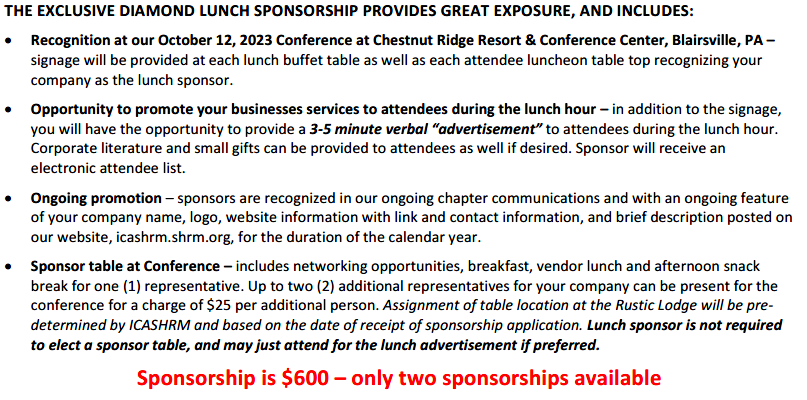 Diamond Conference Sponsor Invoice/Application
Emerald Conference Sponsor
InFirst Bank

InFirst Bank - a true community bank!
We're proud to say InFirst Bank has remained locally owned and operated for over 100 years by dedicated people who live and work in the communities we serve. Our staff knows the importance of quality customer service; making you feel like family, and not just a number. InFirst is a place where the employees know you by name, and value your banking relationship. Being a customer with us feels like, and is like, hometown community banking. In a financial world that is rapidly growing towards more automation, remember that there are still banks out there that focus on you, the person that we serve. When you bank with us, your deposits are reinvested locally in your communities, and we're committed to making them be the best they can be. Contact us today to see why we're a bank WORTH THE SWITCH! www.infirstbank.bank

Emerald Conference Sponsor Invoice/Application
Platinum Conference Sponsor

Making people our purpose. It's what we've done for over 120 years in the financial services industry and what continues to drive us today. At S&T Bank, we believe that all banking should be personal. We cultivate relationships that are firmly rooted in trust and strengthened by our team members going above and beyond in every daily interaction. Since 1902, we've strived to provide you with the latest and best-in-class innovations in customer service, products and technology and we readily adapt to help you achieve your financial goals. We're constantly working to find solutions that will not only meet, but also exceed your expectations. Our legacy continues to be one of a community minded Bank whose actions are guided by humility and empathy and a sincere desire to uplift each other. We understand that you want a relationship bank, a team of experts who will put you first. That's your S&T Bank. Visit us at stbank.com, stop by a local branch, or call us at 800.325.2265.
S&T Bank is also our Keynote Speaker Sponsor! Thank you S&T!!

Platinum Conference Sponsor Invoice/Application
Gold Conference Sponsor

Gold Conference Sponsor Invoice/Application
Bronze Conference Sponsor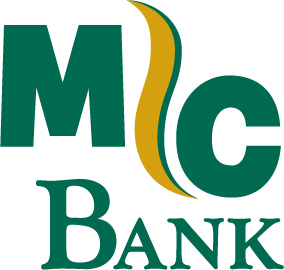 Marion Center Bank was established in 1905 and over 100 years later, have grown and proudly serve Indiana, Jefferson, Armstrong, and Cambria counties. Marion Center Bank provides a variety of banking solutions to our communities. We offer traditional banking services, as well as "state-of-the-art" online and mobile banking technologies. We are committee to staying current and accessible to our customers, no matter where they live and work. Our local decision making allows our lenders to meet the needs of our local business and individuals to ensure they have the tools needed to be successful. Not only does Marion Center Bank pride itself on providing superior customer service, we work very hard to create an environment focused on the success of our customers and employees. The bank participates in many local community events and supports our employee's involvement as well. We invite you to visit any of our seven local offices, visit online at www.marioncenterbank.com to learn how you can come grow with us.